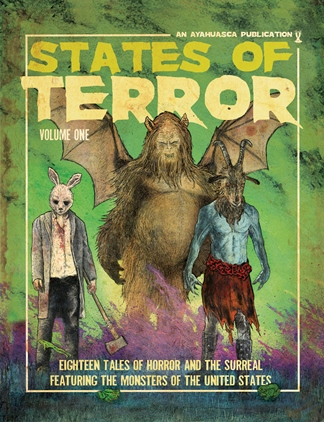 States of Terror Vol.1
Published November 2014
Co-editors: Matt E. Lewis & Keith McCleary
Art Director: Adam Miller
Amazon/Powells/Goodreads/Indiebound
At the intersection of Cryptozoology and folklore, the legendary local monster finds its place in the American landscape: feared and desired, hunters and hunted, unbelievable but believed.
In this collection of new fiction, 18 writers and 23 artists have dragged these beasts from the relative safety of remote rural hollows and fetid swamps, re-imagining their mythologies for the 21st century.
They believe. And so will you.
The writers: Ryan Bradford, Sunny Katz, Julia Evans, Matt E. Lewis, Rachel Lee Taylor, Tina Hyland, Nate McDonald, Pepe Rojo, Jim Ruland, Alex Bosworth, Jimmy Callaway, Ed Farragut, Ben Segal, Anthony Muni Jr., Hanna Tawater, Jessica Hilt, Adam Veal, Kiik AK, & Keith McCleary.
The artists: Adam Miller, Jacob Carignan, Marlene O'Connor, Josh Morrissette, Joe Dellagata, John Cardinal, The Wizard Garrett, Andrew MacLean, David Ferreira, Haig Demarjian, Andrew Houle, Rolo Ledesma, Alex Schinas, Kevin Ilaqcua, Michael Crockett, Brian Paturzo, Derek Hart, Brett Mason, Mike Doherty, Christopher James Letarte, Steve Becker, Greg Moutafis, & Emily Dumas.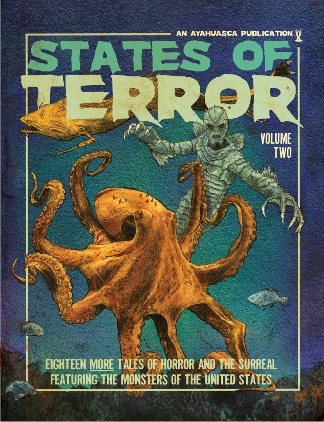 States of Terror Vol.2
Published October 2015
Co-editors: Matt E. Lewis & Keith McCleary
Art Director: Adam Miller
Amazon/Powells/Goodreads/Indiebound
From their hiding places in the darkness of the Louisiana bayou, to the scorched earth of the Badlands where they assume free rein, the myths and monsters of American folklore are a part of our culture we cannot escape.
In this continuation of the States of Terror series, 18 writers and 22 artists lead us further into the shadows and haunts of the United States, peeling away our preconceptions to find the truths beneath our fears.
You have been invited. You have been warned.
The Writers: Jamie Grefe, Adrian Van Young, Zack Wentz, Ben Segal, Heather Fowler, Meg Tuite, Thomas Martin, Brian Krans, Lizz Huerta, Cameron Pierce, Natanya Ann Pulley, Kirsten Alene, Stephen Brophy, Amber Sparks, J.S. Breukelaar, Danielle Renino, Steve Jones, Jerry Morrissette & Ben Loory.
The Artists: Adam Miller, Haig Demarjian, Pat Kelley, Dominic Viona, Ben Donahue, Nickolai Kilin, Enzo Garza, Zack Atkinson, Heather Scoggins, Daniel Kern, David Ferreira, Sam J. Royale, Craig Schaffer, Rich Woodall, Hanna Tawater, Karl Slominski, Zachary Naylor, JB Roe, Tom Torrey, Frank Casazza, Geoff Mosse, Joe Haley & Josh Morrissette.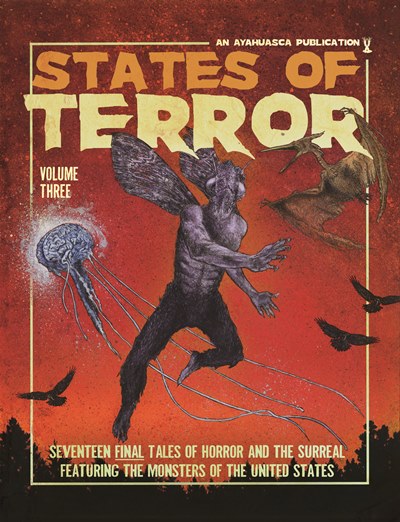 States of Terror Vol.3
Published October 2016
Co-editors: Matt E. Lewis and Keith McCleary
Art Director: Adam Miller
Amazon/Goodreads/Indiebound
Bloody Mary. The Donkey Lady. Goatman. Champ. These names and others are whispered across generations as warnings of evil manifestations which dwell on American soil. Some are beautiful and misunderstood, others are nightmarish and unspeakable. Despite their differences, they share one thing in common: they are all part of the shared tapestry of terror which winds its way through time and space, but stays forever rooted in the landscape of the United States.
In this chilling conclusion of the horror anthology trilogy, 17 writers and 28 artists have teamed up to unleash the final beasts of the union upon an unsuspecting population. From the humid swamps of South Carolina to the dark forests of Hawaii, prepare yourself for one last journey through the states of terror, and whatever lurks within them.
The writers: J David Osbourne, Amelia Gray, Rios De La Luz, David James Keaton, Andrea Kneeland, Eber Lambert, Gabe Durham, Lauren Becker, Bradley Sands, Jennifer Corely, Gabriela Santiago, Janice Lee, Kevin Maloney, Justin Hudnall, Gabino Iglesias, Michael Seidlinger & Robert Vaughan.
The artists: Adam Miller, Jacob Carignan, Aaron Conley, Haig Demarjian, Corinne Reid, Joshua Coon, Will Pottorff, Peter Pasquerello, Deanna Burke, Marie Enger, Peter Bergamo Jr., Daniel Kern, Cody Vrosh, Amanda Beard, Val Toukatly, Shaemus Spencer, Paul Lyons, Johnathan Adrian/venusjaw, Katherine Brannock, Sara Richard, Jim Ponte, Bryce Davidson, Jeff McComsey, Josh Morrissette.