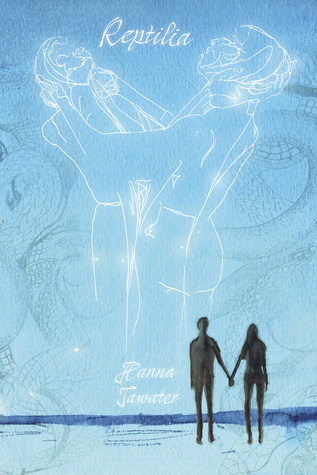 Reptilia
Published September 2018
Poetry Collection
Author: Hanna Tawater
Cover art & illustrations: Laura Gwynne
Book Design: Olvia Croom
Amazon/Goodreads/Indiebound/Powells
Reptilia is an exploration of the dark feminine through the lens of myth, quantum physics, and the colonial nature of semiotics. With bold approaches that seek to unravel the nature of patriarchal realities, Hanna Tawater's poetry captures the fury of the universe encased in the unblinking demeanor of the serpent. The text echoes across time, space, thought, and phylum, and transports the reader to a place where you will always find the apex to be cold-blooded.
"These are poems of transformation birds become reptiles, snakes become women, time becomes skin, the Ouroboros becomes itself. Between the idea / and reality / you were my favorite moment, one of the poems reads, and, with this, the changes themselves become journeys worthy of our attention. Reptilia is bold, smart, and engrossing". --Chelsea Hodson, author of Tonight I m Someone Else
"Reptilia is a vibratory, phosphorescent text that understands how subtle differences in a physical or linguistic configuration might result in a new way of seeing, that is, where does monstrosity stem from, how is fear manifested, how is power created in the sorrow of a creature s eyes, the coldness of its blood, the still-beating serpent s heart when removed from its body to be consumed by another. How close and how far are we to each other. An uncanny, haunting, and singular work." --Janice Lee, author of The Sky Isn't Blue
"Tawaters poetry is an eruption of lavish imagery and an undeniably erotic aura. Her poems feel mythological and ancient, like a new sensuous language mixing the scientific with the magic of the serpent." --Rios De La Luz, author of Itza
"Reading Reptilia feels like slowly opening a Pandora's box of sorts, as though by doing you are unearthing something ancient and alluring and powerful and wicked. These are not poems but spells, and with them Hanna Tawater establishes herself as writer who demands not just to be read, but reckoned with." --Juliet Escoria, author of Witch Hunt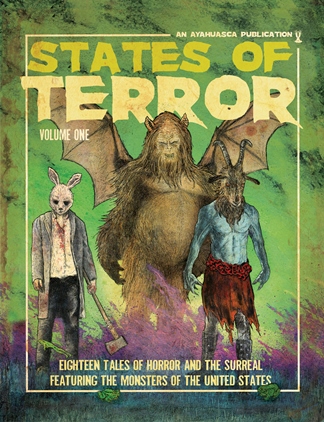 States of Terror Vol.1
Published November 2014
Horror Fiction Anthology
Co-editors: Matt E. Lewis & Keith McCleary
Art Director: Adam Miller
Amazon/Powells/Goodreads/Indiebound
At the intersection of Cryptozoology and folklore, the legendary local monster finds its place in the American landscape: feared and desired, hunters and hunted, unbelievable but believed.
In this collection of new fiction, 18 writers and 23 artists have dragged these beasts from the relative safety of remote rural hollows and fetid swamps, re-imagining their mythologies for the 21st century.
They believe. And so will you.
The writers: Ryan Bradford, Sunny Katz, Julia Evans, Matt E. Lewis, Rachel Lee Taylor, Tina Hyland, Nate McDonald, Pepe Rojo, Jim Ruland, Alex Bosworth, Jimmy Callaway, Ed Farragut, Ben Segal, Anthony Muni Jr., Hanna Tawater, Jessica Hilt, Adam Veal, Kiik AK, & Keith McCleary.
The artists: Adam Miller, Jacob Carignan, Marlene O'Connor, Josh Morrissette, Joe Dellagata, John Cardinal, The Wizard Garrett, Andrew MacLean, David Ferreira, Haig Demarjian, Andrew Houle, Rolo Ledesma, Alex Schinas, Kevin Ilaqcua, Michael Crockett, Brian Paturzo, Derek Hart, Brett Mason, Mike Doherty, Christopher James Letarte, Steve Becker, Greg Moutafis, & Emily Dumas.
"Lushly illustrated by as many artists as there are things to go bump in the night, this book is not for the faint of heart or for a dark and stormy night. Be afraid, be very afraid, of the talent and creativity to be found in these pages."
--Renee Mallett, author of Manchester Ghosts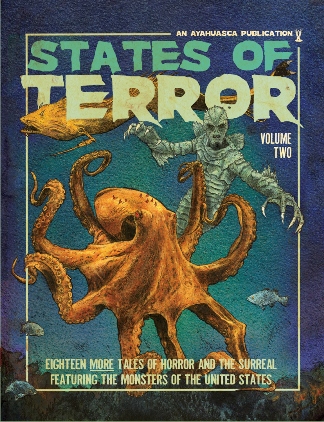 States of Terror Vol.2
Published October 2015
Horror Fiction Anthology
Co-editors: Matt E. Lewis & Keith McCleary
Art Director: Adam Miller
Amazon/Powells/Goodreads/Indiebound
From their hiding places in the darkness of the Louisiana bayou, to the scorched earth of the Badlands where they assume free rein, the myths and monsters of American folklore are a part of our culture we cannot escape.
In this continuation of the States of Terror series, 18 writers and 22 artists lead us further into the shadows and haunts of the United States, peeling away our preconceptions to find the truths beneath our fears.
You have been invited. You have been warned.
The Writers: Jamie Grefe, Adrian Van Young, Zack Wentz, Ben Segal, Heather Fowler, Meg Tuite, Thomas Martin, Brian Krans, Lizz Huerta, Cameron Pierce, Natanya Ann Pulley, Kirsten Alene, Stephen Brophy, Amber Sparks, J.S. Breukelaar, Danielle Renino, Steve Jones, Jerry Morrissette & Ben Loory.
The Artists: Adam Miller, Haig Demarjian, Pat Kelley, Dominic Viona, Ben Donahue, Nickolai Kilin, Enzo Garza, Zack Atkinson, Heather Scoggins, Daniel Kern, David Ferreira, Sam J. Royale, Craig Schaffer, Rich Woodall, Hanna Tawater, Karl Slominski, Zachary Naylor, JB Roe, Tom Torrey, Frank Casazza, Geoff Mosse, Joe Haley & Josh Morrissette.
"The regional monsters of States of Terror are at turns horrifying, disturbing, empathetic, misunderstood, and fun. The authors infuse a palpable sense of place in the re-imagined local legends, hauling their creatures and our monstrous selves out of the shadows."
--Paul Tremblay, author of A Head Full of Ghosts
"The talented creators of the work in this anthology provide a spectrum of true terror, with the acts of humans as horrific as those of the monsters born of deft imagination. The sum of these stories results in a stunning whole that is guaranteed to linger."
--Lauren Becker, author of If I Would Leave Myself Behind
"Eighteen monstrous tales of the dark, the bizarre, and the mythical round out this collection from newcomer Ayahuasca Publishing. As with Vol. 1, States of Terror focuses on regional folklore, of varying levels of notoriety. I immediately went to the section for The West because I like that sort of thing and found a wonderfully evocative story in "Field Manual" by JS Breukelaar, centered around an uneasy post-war peace, an uneasier love triangle, and the rather grisly stillbirth of something vengeful and sad. Also enjoyable was Amber Sparks' "Friends with the Moon," about a distant relative of The Mothman. From gator-men in Lousiana, jackalopes in Wyoming, Idaho wolves, or truly odd Melonheads (What the hell is a Melonhead?) in New Jersey, States of Terror Vol. 2 is a good mix of newer and more established names, not unlike the monsters themselves."
--Theresa DeLucci, Tor.com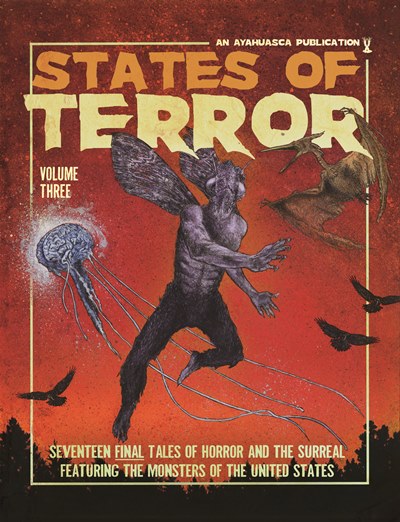 States of Terror Vol.3
Published October 2016
Horror Fiction Anthology
Co-editors: Matt E. Lewis and Keith McCleary
Art Director: Adam Miller
Amazon/Powells/Goodreads/Indiebound
Bloody Mary. The Donkey Lady. Goatman. Champ. These names and others are whispered across generations as warnings of evil manifestations which dwell on American soil. Some are beautiful and misunderstood, others are nightmarish and unspeakable. Despite their differences, they share one thing in common: they are all part of the shared tapestry of terror which winds its way through time and space, but stays forever rooted in the landscape of the United States.
In this chilling conclusion of the horror anthology trilogy, 17 writers and 28 artists have teamed up to unleash the final beasts of the union upon an unsuspecting population. From the humid swamps of South Carolina to the dark forests of Hawaii, prepare yourself for one last journey through the states of terror, and whatever lurks within them.
The writers: J David Osbourne, Amelia Gray, Rios De La Luz, David James Keaton, Andrea Kneeland, Eber Lambert, Gabe Durham, Lauren Becker, Bradley Sands, Jennifer Corely, Gabriela Santiago, Janice Lee, Kevin Maloney, Justin Hudnall, Gabino Iglesias, Michael Seidlinger & Robert Vaughan.
The artists: Adam Miller, Jacob Carignan, Aaron Conley, Haig Demarjian, Corinne Reid, Joshua Coon, Will Pottorff, Peter Pasquerello, Deanna Burke, Marie Enger, Peter Bergamo Jr., Daniel Kern, Cody Vrosh, Amanda Beard, Val Toukatly, Shaemus Spencer, Paul Lyons, Johnathan Adrian/venusjaw, Katherine Brannock, Sara Richard, Jim Ponte, Bryce Davidson, Jeff McComsey, Josh Morrissette.
"Full of stories that zig-zag back and forth over the genre/lit line, States of Terror Vol. 3 has all the satisfactions of good style, the hooks of genre fiction, and everything you need to know about where the great American monsters are now." - Brian Evenson, author of A Collapse of Horses
"Some of our best contemporary fiction writers, gathered around a campfire with tales of cryptic hominids, teenage legends, eerie apocrypha, and beautifully terrible horrors -- States of Terror is Scary Stories to Tell in the Dark for adults." - J. Ryan Stradal, author of Kitchens of the Great Midwest
"States of Terror Vol.3 had my heart pounding from cover to cover. By the end I wanted to put it in my mouth, but I was already in its mouth." - Lindsay Hunter, author of Ugly Girls
"All my favorite writers in a book as beautiful as this, telling stories about monsters I've never even heard of? Sign me up twice, please. I want to go through again." - Stephen Graham Jones, author of Mongrels
"For the third volume of Ayahuasca Publishing's States of Terror series, editors Lewis and McCleary have rounded up seventeen of the most audacious voices in modern dark fiction to spin startling and spine-tingling tales rooted in monster legends from across the USA. By turns harrowing, hallucinatory, and morbidly hilarious, the retellings also boast breathtaking illustrations from two dozen masters. Strap yourself in and turn the first page: it's time for one hell of a road trip!" - David Bowles, author of Ghosts of the Rio Grande Valley
"States of Terror Vol.3 showcases a wide range of horror, from emerging authors as well as established visionaries. These tales run you through the ringer, too—laughter turning into suspicion morphing into fear. Each place and time is shrouded in mystery—the echo of legend, deafening, the stench of dark myths, sickening. This is an unsettling collection that will bubble to the surface the minute you turn out the lights, paralyzing you, so as not to bring the darkness any closer."—Richard Thomas, author of Breaker and Tribulations